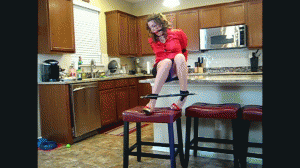 37 photos; 4:03 video
After Johnny takes video of me wearing my red satin blouse and skirt on the stool, he realizes that he could see my red satin panties and garters much better if I am sitting up on the counter. So, he breaks from the video camera for a moment to reposition me in a more advantageous situation for him. He removes the leather strap from my ankles and quickly replaces it with sports cuffs on both ankles attached to a spreader bar. Enchanted by my silky stockings and red high heels, he likes this new position much better. He pulls back out the camera to watch me wiggle around a bit more, now that he has a perfect view up of the fully revealed garters underneath my skirt. I can't go too far for fear that I may fall off the counter and soon drool starts to drip off my shiny red ball gag. How can we leave the house now? Is there any better place to be?
If you have an idea for a shoot or would like to see something in particular please email me at maladaptiveb@yahoo.com.