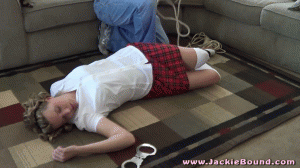 7:57 video
This is a large file. But on a positive note, its High def and at least twice as long as usual:) If you want smaller files let me know email me at maladaptiveb@yahoo.com or Jackie@maladaptivebehavior.com.
It was after school and I was relaxing at home. I was sitting reading my book. I don't think anyone would approve of what I was reading but it didn't matter, I was alone, or so I thought. As I was transported to my imagination someone had broken in and snuck up behind me and clamps a cloth over my mouth and nose. I smelled something sweet and the next thing I knew I was looking out of the trunk of a car. I must have XXXX. When I awoke, there was something drying out my mouth as if something was shoved in there. I tried opening and spitting it out but there was tape over my mouth I went to raise my hand to my mouth to remove what ever it was and there was something pinning them behind my back. I was tied and gagged. I screamed to be let go. I looked up and saw a hooded man, He promptly picked me up. All I saw was the floor as he carried me into a room. I guessed I was in a garage. He threw me onto a couch where I struggled for a bit. It wasn't long before he returned and removed my gag. Thank god, my mouth was drying out, but before I could really scream for help he replaced the tape with cloth. I had no idea what he wanted with me.
Would you like to see me tied a certain way, or wearing a specific item? Maybe you would just like to say Hi? Email me at maladaptiveb@yahoo.com or jackie@maladaptivebehavior.com.