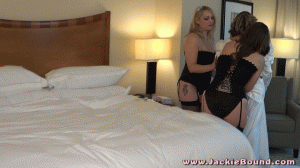 13:03 video
This is a HUGE file, but its also a long video. I wanted to deliver the highest quality video I could and the only way to do that is with disc space. I apologize and will later put a video that is smaller but of course with less quality.
When the girls helped me undress, I must admit, I was a bit nervous. I don't know if it was before the wedding jitters? Maybe I was a bit excited about the prospect of being tied by Elizabeth. I knew that she had played around but I had no idea that she was this good with rigging. She tied my hands behind my back and produced a bright and shiny white ballgag. I only happily took it as Kyra took pictures. They both looked so cute. Lize had me lay on the bed facing down, I think I knew what she was going to do next and I was excited. Of course she didn't disappoint, She tied me in a cute and tight hogtie. What I didn't expect was what Kyra was going to do while Elizabeth filmed. I al exftremely ticklish. If you even act like your going to tickle me I cant help but explode in laughter. I am so ticklish, I feel like it will kill me, as if I will literally die of laughter. Kyra then started tickling me and I couldn't do anything but squirm in my hogtie, pull against the ropes and bit down hard on my ballgag, through fits of laughter. I was wearing all white on white sheets I laughed so hard I was worried I was going to pee in the bed.
If you like what you see and want to see previews in advance of other galleries please friend me on www.fetlife.com my username is realjackiebound. Elizabeth Andrews is also there as ElizabethAndrews, you can also visit Kyra there as KyraMichelle. Drop by and say Hi.