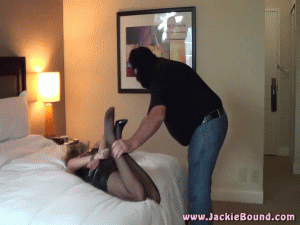 15:44 video
Whitney walks into my hotel room after she had agreed to meet for a tryst earlier in the evening. She wanted to make good on her promise to drive me wild with passion.
I'm still trying to scream through my gag as Whitney walks past the bathroom. I imagine she thinks I'm just making playful noises, so she'll come release me from whatever self-tie I have gotten myself into. I see her come just past the bathroom wall. She looks superhot with her blonde hair thrown up into a retro bun, black leather bra and miniskirt sleek against her skin, and black leather heels gliding effortlessly across the floor.
Whitney sees me now and the look of terror on my face. She realizes that I am trying to warn her of certain danger, but can't fully process the eminent peril, before a large hand wraps around her head and pulls her into submission.
I am writhing on the bed in my black PVC minidress, stockings and black patent leather heels trying to escape a tight sophisticated hogtie. The imposing figure behind Whitney, XXXX a ball gag into her mouth and then leads her toward the bed where I am struggling. He then ties her arms and legs and throws her up onto the bed. He pulls her legs and arms up behind her and swiftly gives her a hogtie that is just as intricate and perplexing as the one I am currently sporting.
The man steps back to admire his work, watching as Whitney and I wiggle and squirm on the bed. We scream through our gags, but no one comes to our rescue. He seems quite amused and even taunts us a bit, pulling our heads back and whispering in our ears that we know why we are there.
After a few minutes, we are given mercy as the man removes the ski mask from his face and reveals his true identity. It was RopExpert the whole time! He heard us talking downstairs and leapt at the opportunity to foil our fun! Til next time RopExpert!.....
Please visit my friends at www.Ropexpert.com and www.MissWhitneyMorgan.com for more bondage and fetish fun!