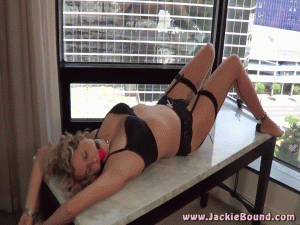 3:53 video
So, here I am. Cold marble desk top against my back. Metal cuffs nipping my wrists and ankles. Metal collar sunk into my neck. Ball gag pulled tight. Legs spread by the metal spreader bar and tied to the end of the desk facing toward the beautiful vista of downtown Tampa. Arms pulled tight above my head and tied to the front of the desk.
The bondage is stunning, the reflection in the window is erotic and I am all too happy to be here.
I struggle against my restraints. The cold marble thrilling the skin between my black bra and garter belt. And then I realize how good this feels. My black satin panties slide freely on the desk. My silky stockings enhance the sensation of sleekness from the satin panties.
So, I just writhe around on the desk and enjoy my reflection in the mirror...glad that we played before meeting the perils that lie ahead when lots of bad guys want you tied up at FetishCon.
Please follow me on Twitter: @RealJackieBound. I update the website 3 times a week for your viewing pleasure. :)