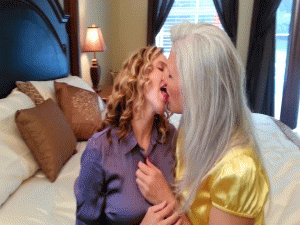 26:36 video
Former Sorority Sisters, now MILFs, Relive Bondage Orgasm Memories!
Jackie and Sandra had not seen each other since college. Now in the same town on business, they get together for some wine and reminiscing of the good ol' days. While looking through a yearbook, the talk turns to a kinky collegiate they both knew and his fetish for tying girls up. Sandra tells her how much fun it was, and Jackie begins to regret not having tried it. Always eager to help, Sandra leans in for a kiss...
The girls continue to kiss into the bedroom where Sandra strips Jackie to her bra, panties girdle and stockings. Sandra ties Jackie face-down to one of the posts of her four-poster bed and then tied Jackie's legs wide open. A gag for good measure and now the fun really begins. A hitachi magic wand is applied to Jackies pantied pussy as Sandra brings her former sister to orgasm over and over...