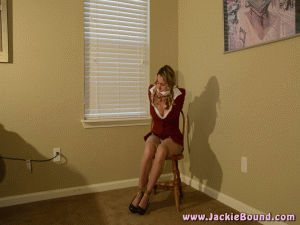 78 photos; 6:48 video
Executive Assistant Working Manual:
Job Description: Assistant's sole purpose is to creatively inspire the executive to perform well under pressure in an environment that requires a high level of control and diplomacy.
Dress Code: 3 piece business suit with blouse, jacket and skirt. Preferred blouse color is white. Preferred suit colors are red or black. Must wear garter belt, stockings, satin panties, push up bra and high heels at most times.
Job duties: Anything that executive asks you to do, including, but not limited to playing damsel in distress, enduring strict chair ties with rope for long periods of time, mastering the art of looking sexy and helpless in a gag, and getting coffee and dry cleaning.
Work Hours: 7 am until deemed that executive is pleased with your damsel in distress. Be prepared to be tied up most of the time, with a gag each time.
Pay: Hog ties, gags, drool, sexy lingerie, and all thing satin.
For questions: Please refer to the attached photos and video.