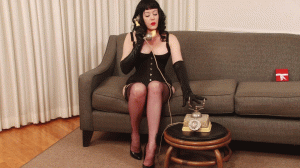 18:53 video
Miss Mary Jane has won 1st place in "The World's Best Legs" competition. But the runner-up is jealous, and makes arrangements to get rid of Mary Jane's legs forever... by turning her into a mermaid.
This is a short story featuring 3 main fetishes: Leg Show/Glamour, Mermaid Fetish, and Mermaid Bondage.
Part 1: LEG SHOW. Stiletto high heels, back-seamed stockings, lingerie, corset, leather opera gloves. Posing, standing, walking, sitting, reclining, telephone time, and nibbling magic sea snack. 6mins.
Part 2: MERMAID POSING. Sudden/surprise transformation, distressed topless mermaid posing upright, then reclining. 6mins.
Part 3: BONDAGE MERMAID. The leg competition runner-up has left Mermaid Mary Jane trussed up. Initially, Mermaid MJ poses topless in ropes and rope-gag, then a fisherman's net is thrown over her head, and for the rest of the scene she struggles trying to throw off the net, but only manages to uncover her lower half. 6mins.
Homage, tribute, Bettie Page mermaid, Olivia mermaid, Milanoo mermaid tail, Milanoo zentai mermaid costume, fairy tales, fairy tails, leg show, legs, leggy, glamour, cheesecake, model, transformation fantasies, transformation fetish, transformation, transformed, sudden transformation, surprise transformation, erotic magic, magic transformation, mermaid, mermaid fetish, shiny, costumes, fantasy, fantasies, role play, roleplay, damsel in distress, bondage, rope bondage, erotic magic, cosplay, stuck, mermaid tail, mermaid fantasy, Mary Jane Green. Shot on tripod. Some camera noise.
1920x1080pixel MP4 video. May 4.