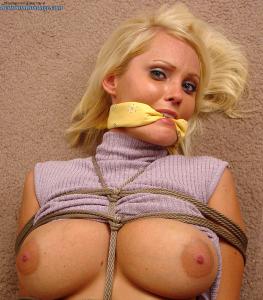 38 photos
Sexy secretary Hanna picked up a screenplay off the desk and started reading it... she shouldn't've done that!
Ungagged, then gagged, cleave gag, cleavegagged, bandanna gag, big tits, topless, bare breasts, chair tie, chair bondage, blonde, sweater, turtleneck, mini skirt, high heels, office bondage, rope bondage, crossed ankles, sexy secretary, tipped chair.
JPG Photoset: Zip file containing JPGs (1200pixels longest side). Set HannaHilton2. June 4.