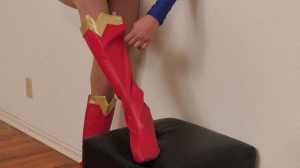 9:00 video
Freedom Woman Part 1 of 4. Freedom Woman receives a video message showing a chair-bound blonde pleading for help. Freedom Woman suits up and goes to the rescue! She finds and unties the captive, but two thugs show up. A few punches from our superheroine and all is well -- but wait! While Freedom Woman is distracted, the "captive" activates a sonic device which overpowers our superheroine. The two thugs rope and gag her while Agatha Delicious gloats and explains that this was all a fiendish trap. Freedom Woman, still limp from the sonic effects, is carried out and stashed in a car trunk while the baddies clean away all evidence of what happened. Finally they close the trunk and drive off with their prize. - - Superheroine storyline, spandex, costume, boots, long gloves, mask, cape, wide belt, blonde, action, interaction, onscreen tying, rescue, rope bondage, overmouth gag, OTM gag, over-the-mouth gag, detective gag, carrying, car trunk, car boot. - - Cast: Riley Reyes as Freedom Woman, Agatha Delicious as the Captive, Jon Woods and Teo as the Thugs. Videography: Lorelei Mission.
This is Freedom Woman Part 1 of 4. This is a custom project that was shot with two cameras from two different angles for release by two producers. The client version is shot/edited/released by Lorelei at this site, with the footage emphasizing torso framing, and the director version is shot/edited/released by Jon Woods at clips4sale.com/6571 with the footage emphasizing close-ups plus full-body shots showing off the boots.
1920x1080pixel MP4 video. january 11.