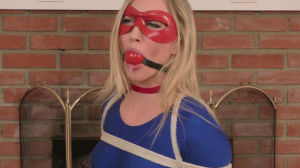 11:41 video
Freedom Woman Part 3 of 4. Our captured superheroine has been handed over to the evil Coach. She waits kneeling in bondage, dreading what might happen to her. She's been left ballgagged and she can't stop her saliva. She drools and drools until it's smeared down the front of her superheroine costume.
The Coach comes back with a dildo on a stand. He pushes Freedom Woman's mouth onto the dildo and she discovers she can't stop herself from sucking it. She sucks the dildo with super strength as her drool slops everywhere. When will her humiliating ordeal end?
Costume bondage, boots, spandex, leotard, super heroine, mask, cape, pantyhose, gloves, rope bondage, crotchrope, ballgagged, ball gag, drooling, saliva, spit fetish, blonde, dildo sucking, submission, kneeling bondage.
Cast: Riley Reyes as Freedom Woman, Jon Woods as Coach. Videography: Lorelei Mission.
This is Freedom Woman Part 3 of 4. This is a custom project that was shot with two cameras from two different angles for release by two producers. The client version is shot/edited/released by Lorelei at this site, with the footage emphasizing torso framing, and the director version is shot/edited/released by Jon Woods at clips4sale.com/6571 with the footage emphasizing close-ups plus full-body shots showing off the boots.
1920x1080pixel MP4 video. February 8.