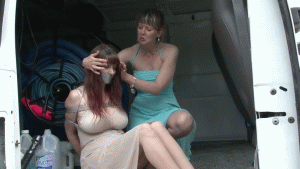 8:29 video
Our "Bound & Felt Up" videos are so popular that we made another one.
Lorelei is being held captive in a van by Jamie, who stops in to see her. Jamie trash-talks, then she pulls Lorelei's slip and bra down and gets her hands all over Lorelei's big natural breasts. Lorelei's humiliated but she's helpless to stop Jamie from groping her boobs. Jamie is so mean she even does some nipple-pinching. Eventually Jamie closes Lorelei back up in the van.
A fun skit starring mid-40s babes Jamie Foster and Lorelei.
Keywords: van, mature, milf, cougar, bondage, bound, gagged, tape gag, tapegag, high heels, pantyhose, hosiery, ropes, ropework, big tits, big boobs, big breasts, buxom, busty, felt up, groping, squeezing, girl-girl, lesbian, femdom, Domme, femdomme, captive, damsel