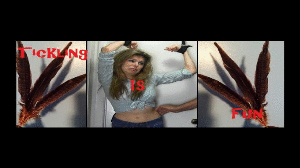 12:24 video
Starring Maya
---
Maya is secured to the table, wearing a tank-top and shorts. Some of her more ticklish spots are really focused on in this one. About half way through, her top is lifted up and used as a makeshift blindfold. At one point the tickling gets so bad for her she manages to free one hand. When that happens there is only one way she can get a break from the tickling and that is, she has to lift her arm back up. Something that is very hard for any girl to do when they are being tickled.
FYI this is the ONLY place you find of Maya being tickled. She is very particular about who her ticklers are. She is only willing to work with us. Since we had a good relationship with her for a while.
---
Maya is available for custom video work. Shoot us an email to order yours today.
---
Come on in and enjoy lots of downloadable or streaming full length feature video's of today's hottest ticklish model's for one low price. Updated several times a week in stunning HD quality.
---
Brought to you by Ticklingisfun