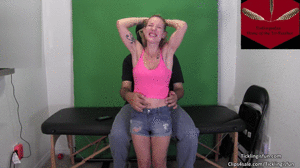 13:20 video
Starring Misty Rein
---
Misty Rein joins us for some tickling fun. To break her in, we let her see if she can keep her dignity, and clothes, in a little game called Tickle Strip. Before we even started, she shared with us that there was no way she would be able to keep from ending up nude, because of how ticklish she is. Misty must keep her arms up while being tickled. If she drops them she will have to take something off. Is she correct in thinking she will end up nude, or does she have a chance of winning?
---
Misty Rein is available for custom video work. Shoot us an email to order yours today.
---
Come on in and enjoy lots of downloadable or streaming full length feature video's of today's hottest ticklish model's for one low price. Updated several times a week in stunning HD quality.
---
Brought to you by Ticklingisfun