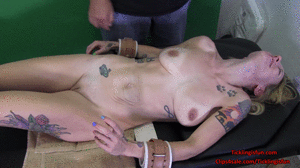 11:56 video
Starring Misty Rein
---
We find Misty Rein tied down and unable to resist any of the tickling we choose to put her through. She is so sensitive to the light touch, it makes her perfect for several of our tools, from feathers to brushes, she can't stay still for any of it!
---
Misty Rein is available for custom video work. Shoot us an email to order yours today.
---
Come on in and enjoy lots of downloadable or streaming full length feature video's of today's hottest ticklish model's for one low price. Updated several times a week in stunning HD quality.
---
Brought to you by Ticklingisfun