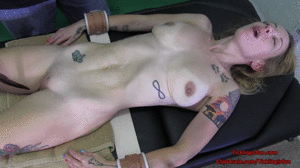 12:43 video
Starring Misty Rein
---
Misty Rein doesn't even want to try and guess how ticklish it will be when a feather is about to move between her legs. She's been surprised too many times to risk it. She finds out pretty quick how her body will betray her once again. The feather tickled her more than she can imagine. Especially right up the middle of her womanhood. It's so bad here that we even had to cut at one point when she had a coughing fit. Poor Misty was completely unprepared for how intense this scene was.
---
Misty Rein is available for custom video work. Shoot us an email to order yours today.
---
Come on in and enjoy lots of downloadable or streaming full length feature video's of today's hottest ticklish model's for one low price. Updated several times a week in stunning HD quality.
---
Brought to you by Ticklingisfun