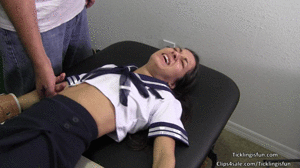 12:52 video
Starring Freya Von Doom
---
School girl Freya is still having trouble in school. She has asked if there was anything she can do for extra credit. Considering how she has trouble following rules, which is also what caused her grades to slip, her "extra credit" is also a bit of discipline, focusing on her weakness. She is very ticklish. So Miss Freya is tied down and tickled all over her upper body. She can't believe how ticklish she is right now and is practically begging for it to stop!
---
Freya is available for custom video work. Shoot us an email to order yours today.
---
Come on in and enjoy lots of downloadable or streaming full length feature video's of today's hottest ticklish model's for one low price. Updated several times a week in stunning HD quality.
---
Brought to you by Ticklingisfun