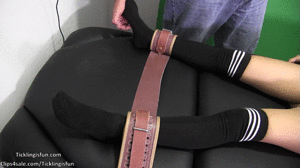 11:15 video
Starring Freya Von Doom
---
Schoolgirl Freya has still not learned her lesson. So now her worst spot is intensely focused on, her feet! It gets so bad for her at this point that by the end, she is no longer able to struggle and just lays there and takes it. She is a completely broken little girl.
**The camera angle is on her feet and legs the entire time of this clip. Until the end when you are able to see her face and just how spent she is**
---
Freya is available for custom video work. Shoot us an email to order yours today.
---
Come on in and enjoy lots of downloadable or streaming full length feature video's of today's hottest ticklish model's for one low price. Updated several times a week in stunning HD quality.
---
Brought to you by Ticklingisfun