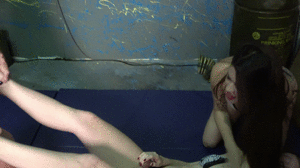 8:54 video
Raquel Roper & Sorceress Morgana vs Lizzy Lamb Battered & Bruised
Description:(Women's Handicap Wrestling, 2 on 1, Catty Tactics, Female Domination, Lesbian Domination, Foot Worship, Debuts, Petite, Redheads, Apartment, Bikini)

Raquel makes a big first impression at WMW, teaming up with Sorceress Morgana in her debut appearance on our mats, to absolutely destroy the petite redhead Lizzy Lamb in "Battered & Bruised" giving her a bikini style beating that she'll remember for a long time to come!

Raquel and Morgana are all over Lizzy from the start, using a multitude of attacks that range from the flat brutal, to those that target her breath, all the way down to a few erotic moves with the last of these even including a little Coerced foot worship just because!

Poor Lizzy is pretty much a punching bag and play toy for these two! She's never suffered a whipping quite as humiliating as this one!

This is a great video for the pure domination fans out there! It's as one sided an ass kicking as you can possibly get!