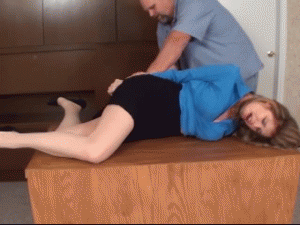 10:24 video
Mr. Boulder's excuse for bringing Ms. Boxxx to the back room instead of his office seemed reasonable - his office was being renovated, and it is all in disarray, and this room is available for them to finish the interview process. Ms. Boxxs is very qualified for this "executive assistant" position, but Ivan has a few more "questions" for her. He slips behind the desk she's perched on and grabs her by the hair, taking her completely by surprise. "What are you doing? This is not standard operating procedure!" Well that's certainly true, and neither is untying and removing her blazer, pinning her hands behind her back with one hand, and pulling out rope with the other. While Ivan holds her wrists tight and uncoils the rope, Candle twists around and tries to kick Ivan in the head, but he ignores her attempts and simply flips her onto her stomach to tie her hands behind her back. "In case you haven't realized, this job is not for an executive secretary." This just prompts Candle to try kicking him again, but he's out of her reach - for good reason, as this isn't his first time. Somehow this surprises blonde Candle. "What kind of creep are you?" "The wealthy kind," Ivan responds, and Candle kicks again. "Those are awful pretty weapons there, I'll have to do something about those..." And he pulls out another rope to secure her ankles and those sexy high heels.

Candle ceases her attempts to kick Ivan, and resorts to threats: "Y'know, I have a knife in my purse! I'll take care of you!" This only makes Ivan chuckle - her purse is up in the lobby, and she's not going to make it all the way up there in her current situation. As he ties her knees, showing off those sexy long legs, he tells her she'll fit right in with his group. Finally it sinks in for Candle, "I'm going to be some kind of sexual slave?" Yep, she'll be in his rope a lot. "But I'm not into rope!" That's actually better - guys pay more for chicks who aren't into it. And it's nice for Ivan, too, because it means he gets to break her, to XXXX her to do what he wants her to do, like open her mouth and take a huge red ball gag. He loves a good challenge. He unties her pretty blue blouse and rolls her onto her side to expose her delicate bra, then pulls that down to reveal her perfect breasts with their rosy pink nipples. To make the nearly ideal image all the more sublime, he loops a rope above and below her tits while she struggles to sit up. That actually makes it easier for Ivan to finish wrapping the rope around her chest, even though she's trying to hop around the desk. Ivan ties the knot just as Candle starts to hop away, and before she's two feet from the desk he simply grabs her by a couple of ropes and puts her back, face down, on the desk. Candle squirms and wiggles as Ivan adds the last rope from her ankles to her wrists, making sure to knot it several times and extra tight to slow the fidgety woman down while he's off getting the van ready for her.

Knowing this is probably her last chance to possibly get free, Candle wastes no time pulling against the ropes, stretching and arching to get loose. When that proves futile, she call for help through the gag, but to no avail - Ivan is the only one who comes. He gropes and fondles poor Candle, leaning her off the edge of the desk against his hips. Yep, he'll have her behaving just he way he wants in probably less than a week. "Ready to go?" Of course, Candle is not, but Ivan tosses her over his shoulder anyway, and carries her off.