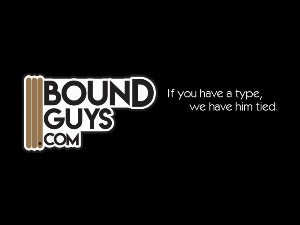 20 photos; 3:28 video
Richie was a funny kind of straight boy. Since moving in next door, we'd become kind of buddies. I'd seen him bring chicks home to his place, and often heard the mattress squeaking through the thin walls where our bedrooms met, as well as some very sexy groaning. But he also showed a little bit more than neighborly friendliness now and then, and I'd had him in for a beer a couple of times when he was dateless. One night when he was over, I had inadvertently left up a screen on my PC, a page from "Bound Guys", showing one of their hot models tightly roped and gagged.
It caught Richie's eye right away.
"Damn", he said, "You into bondage and stuff? I've heard about it."
I'm not ashamed of my fetish, but I felt myself heat up from being caught unaware.
"Yeah, I like to see a guy tied up and struggling," I admitted, summoning up my best false bravado. "Weird, eh?"
"Nah," said Richie, pleasantly. "There are plenty of worse things I guess." He took a closer look at the picture and clicked on a few more. "Wow, that guy's tied up for real," he observed. "I wonder what that feels like? And that gag in his mouth...looks pretty tight. Bet he can't call for help."
"Well, that's the whole point of a gag, isn't it?" I said. "After all, if I was a robber, and broke into your place when you were home, I'd have to tie you up and gag you pretty well if I was gonna get away with your PlayStation."
Richie laughed. "Hell, yeah," he said. "You'd have to knock me the fuck out before you got your hands on that baby."
Suddenly, bells and light-bulbs were exploding in my head, comic-book style. (I'm a little slow sometimes.) The whole subject of being tied up and gagged wasn't turning this cute guy off, in fact, he seemed more than casually interested. I left him at the PC while I excused myself to go into the kitchen for some beers. After popping the caps on two Heinies, I reached into the cabinet above the sink. Ah, there it was! I slipped the secret ingredient down the neck of Richie's Heinie, and gave the bottle a quick shake. Making sure to hold his bottle in my right hand, I returned to the living room and gave it to him. Amazingly, he was still flipping through Bound Guys. He took two quick, deep swigs of beer, then turned to me.
"You know, buddy," he said, "There's something interesting about seeing these guys tied up. It makes you wonder what you would do if you found yourself in that situation."
"Well, uh, yeah," I quickly agreed.
"Lemme just....look...at a....few...."
Damn, that secret ingredient kicked in quick. I watched enthralled as his chin dropped down to his chest, and the mouse fell out of his hands. He started to slide out of the desk chair, but I quickly grabbed him and propped him up. I couldn't resist rubbing his cute short hair, and running my hands along his slim but firm chest. What a cutie!
I laid him out on the floor gently, and quickly stripped him down to his plaid A&F boxers, then opened my toy box and took out a slew of multi-colored ropes. I pulled him back up into the chair and within 5 minutes had him trussed nice and snugly. He made an occasional soft groan as I worked the ropes around his chest and shoulders, but kept right on XXXX. After he was tied up, I slipped a bondage DVD into the player and watched with one eye, while observing my XXXX Beauty just a foot away. After about 20 minutes, I could see he was starting to move, so I got up from the couch and left the room, standing off to the side to watch as he came to. It was so hot seeing the initial expression on his handsome face as he came around and felt the ropes gripping him.
"What the...shit!" he mumbled, while struggling weakly.
I made my reappearance and grabbed two bandannas from the bookshelf. I wadded a blue one into his mouth as he tried to pull away, then tied an orange one around it cowboy style. He made muffled protests as I jokingly told him he'd been taken and was now my special guest. Reaching for a roll of shiny black duct tape, I completed the gag by wrapping it around the bandannas nice and tightly. The kid was reduced to incomprehensible mumbling as I stroked his bare chest and playfully slapped his honey-brown nipples.
His loudest groan came when I slipped my hand into the slit of his boxers and felt his rock-hard joint and swollen, shaved balls. I knew this young stud would only need a few strokes before exploding, so I backed away, and continued teasing his upper body. I even gave his gagged mouth a hard kiss.
Although he struggled and showed flashes of anger, his eyes twinkled as I played with his firm, young body. His sexy grunts turned me on big-time, but I knew I had to play it slow. It was only 7:30, and we were both off the next day......
The End
Richie played by Tye
Photography by Caitiff
Date of Production: 08/23/2006