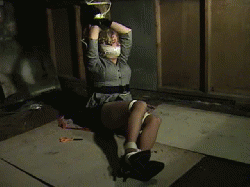 2:48 video
Starring

Joyce Alexander
As
Joyce Gordon, "The Captured Secretary"

And

Amalieve
As
The Voice of "The Office Boss"

The very first video on my site. Featuring me as "The Captured Secretary", Joyce Gordon, a role that I will be reprising from time to time. A role too good to pass up. I love playing characters involving the business world and business attire. In this video, I am being held captive in the basement of a deserted house after being stolen by my boss. You see, she caught me reading some very classified documents that give proof that she is swindling money from the company that I work for, B & G Distributions, by overcharging customers and pocketing the difference. When my boss catches me in the act, I am whisked away in a van to this unknown location and that's where I'm going to be kept until she decides what she is going to do with me. This video shows me in total captivity tied to a real tree trunk that has grown up into the basement. I receive a very threatening , evil message from my boss, as she thoroughly enjoys my captivity and complete helplessness. I struggle to no avail and the ropes only get tighter as my struggles intensify. The layered gag I'm wearing makes it impossible to make any noise, whatsoever. In this video, I truly am "The Captured Secretary"!