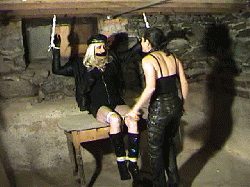 4:20 video

Starring

Joyce Alexander as "The Biker Girl""

And

Amalieve as "The Biker Gang Leader"

Video By Sir Robert

I have been captured, bound, and gagged by The Leader of our Female Biker Gang. She thinks I've been attempting to steal her boyfriend from her. I haven't! I swear! But, it's too late. I am in her clutches and with no escape, will have to endure what ever kind of treatment and punishment that she decides to dish out. I'm in a lot of trouble here, folks! This video gives you the opportunity to see just how ruthless my captor can and will be. Great performance by Amalieve in this video. And my first of many appearances as "The Biker Girl"!