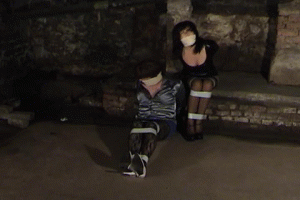 73 photos; 12:47 video
Co-Starring The Amazing Dixie Comet!
Joyce Alexander and Dixie Comet. Best of friends. And both a little on the kinky side. What a better way to enjoy a Saturday evening, than by attending a fetish party! So, both women decide to dress the part. Both in nylons and high profile heels. Joyce in silk blouse and tight skirt. Dixie in an amazingly sexy dress that really shows off her assets. And off they go to the party.

Upon their arrival, they are greeted by an attractive, fascinating woman, who tells them that she is involved with the producing of porn. Both Joyce and Dixie are intrigued and want to know more. The woman invites them to her home for drinks and conversation. Eagerly, they accept.

Once at the woman's house, however, things change rather quickly. After one drink, both woman are XXXX, with their drinks having been drugged. They are now in the clutches of "The Bondage Producer!

The girls awaken to find themselves bound and gagged in the woman's basement, which doubles as a bondage film studio. They are tightly tied with duct tape and tightly gagged with athletic wrap. Their attempts at escape are unsuccessful. Their cries for help go unheard. They finally resign themselves to the fact that they are The Producer's prisoners.

Upon her arrival, the woman announces that she is a bondage producer, and has hand picked both Joyce and Dixie to be her next personal bondage models. Both of the girls want nothing to do with this plan. But, there is no way out of this.Especially after both girls are roughly hogtied by The Producer. Joyce and Dixie have just become "The XXXX Bondagettes"!