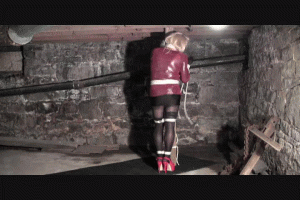 53 photos; 9:27 video
In this, the second installment of my Pantyhose Exposed series, two different bondage positions are featured, along with the color red being the featured color of two different outfits. The high heels and tops of each outfit are colored red. The two positions are a reverse standing pole tie, and an on-the-back, three way legs in the air tie, between a cement pillar and a pole, where my legs are tied together in the air, tied to both the pillar and the pole.

There is no dialogue or villain in this scene. It is simply a scene that features rope bondage, tape gags, and my ass in pantyhose, exposed!