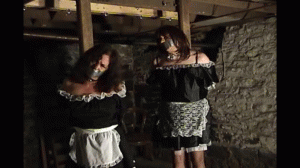 67 photos; 13:30 video
Featuring Guest Damsel Phoenix Gold from Ontario, Canada.
Two maids, owned by a prominent, wealthy businesswoman, are given the task of cleaning the entire house, to ready the woman's home for a party, being given for all of her wealthy clients. After shopping for supplies for the party, the woman returns home to find that her home is still a mess, no where near ready to entertain guests. Both of the maids are escorted into the basement, where they are both tied to separate poles, and gagged, with duct tape. The woman has had enough of her maids. "For Sale" signs are taped to their chests, and they are put on display for all of the woman's guests to purchase, should they be interested, and like what they see!