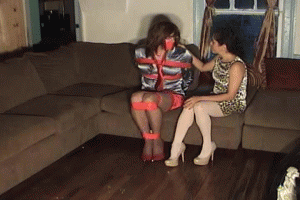 74 photos; 9:28 video
In Part I , The Chairman was grabbed, captured, and stuffed into a vehicle and driven away by an ex-employee out for revenge, for being fired by The Chairman. In Part II, The Chairman was put up for sale to the highest bidder. In Part III, The Chairman was sold to an underground diva named Darling Avacrop, who was soon double crossed by The Chairman's captor, who took back The Chairman, and kept the money from the sale, as well.

Now, In Part IV, The Chairman's captor has decided to continue to profit off of The Chairman's good looks, by putting her up for rent as a bondage escort. To be delivered to specific client's homes, bound and gagged, and XXXX to satisfy them orally, for a fee, paid directly to The Chairman's captor. Advertising pics are taken of The Chairman, duct tape tied and gagged, and soon the first client is booked for a visit. The ex-employee's revenge takes a different turn, as The Chairman will be used for sex, and for profit, as well!