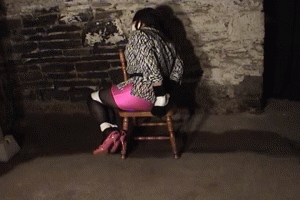 49 photos; 11:52 video
Pantyhose Encasement. Once a fantasy. Now a reality!

As you all know very well, I have a very intense fetish for pantyhose. But, not just for wearing on my legs. I love to be tied and restrained with them. I love to be tightly gagged with them. And I love to wear pantyhose over my head and gag, as a nylon hood.

So, it was only natural to combine all of these loves into one nice, neat package; pantyhose encasement. I was watching a video one afternoon, where Eve Ellis was totally encased in pantyhose by Simone Devon. I immediately knew that I simply had to incorporate pantyhose encasement into my bag of tricks, and include this type of bondage on my site.

So, for all of your viewing pleasure, here are all the pics form my very first pantyhose encasement scene!

The second part of this scene, where I am mummified in duct tape over the pantyhose encasement, will be my first update in October, as part of my 6th Annual Halloween Extravaganza!