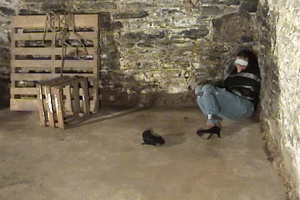 48 photos; 8:54 video
Another segment of my "Home Invasions" Series!
Co-Starring the Amazing Dixie Comet!

The only scene that I ever filmed bound and gagged in tight jeans!

Two roommates, arriving home early, are captured by a burglar, tied, gagged, and stashed in their basement, while the burglar ransacks their home of all it's valuables.

The girls are tied tightly in duct tape, with more duct tape sealing their mouths from alerting the neighbors to their predicament. Eventaully losing their heels, trapped in stocking foot bondage, as the Burglar escapes with all their valuables!