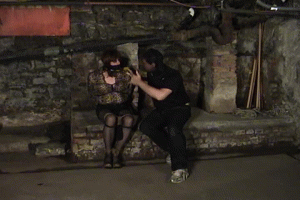 43 photos; 11:13 video
This scene guest stars Mister Charles from Lexington, Kentucky, as the evil villain, "The Nylon Bandit", and features the return of my damsel character Amber Morgan, "The Hollywood Starlet"!

Amber Morgan, well known for starring roles in several Hollywood movies, has been nabbed and is being held captive by a well known criminal, "The Nylon Bandit"!

Now, The Nylon Bandit is not just any ordinary criminal. He only captures those that always wear nylons, because he is simply infatuated with nylons. So much so, that he always disguises himself hooded in nylons. And he always binds his victims with nylons. Sort of his calling card!

Miss Morgan is being held for ransom by The Nylon Bandit. He wants a cool million dollars for Amber from the Hollywood production company that she works for, where she is the star attraction and main money maker.

Amber is making too much noise. The Bandit tapes her mouth and head with several layers of duct tape and leaves to make the ransom call. Amber, however, continues to not cooperate. The Nylon bandit returns and decides to insure her cooperation by placing Amber's head in a nylon stocking hood, followed by more layers of duct tape, this time over her mouth and eyes. Confidant that the situation is well in hand, The Bandit resumes his ransom negotiations.

Several hours later, The Nylon Bandit returns with the ransom money. But, he has one more surprise up his sleeve. Amber will remain with him indefinitely and will not be released. Amber Morgan, The Hollywood Starlet, is now officially the next victim of "The Nylon Bandit"!