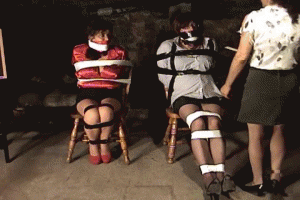 39 photos; 9:12 video
The corrective behavior modification of the two hapless secretaries begins, with the Head Mistress putting her 2 captives on their knees, bent over their chairs, with a profound spanking and paddling planned.
Two secretaries being trained how to be compliant to orders, sporting red asses through their pantyhose, tied, gagged, and helpless!

A week of punishment and torture awaits our heroines, as they learn that they are about to become their Boss's slaves, as he as already hired 2 new secreatries to replace them at the office!