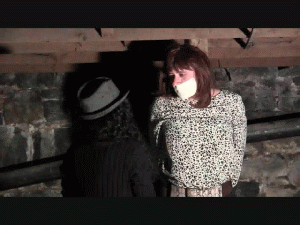 10:01 video
Starring Joyce Alexander as "The Secret Agent"
And Amalieve as "The Spy"
After being captured and left in a zip tie hogtie overnight, a Secret Agent is now tied with rope to a pole, and tape gagged, the prisoner of The Spy she was tracking and following. The Spy has no intentions of releasing her foe. No, quite the opposite. The Spy brings out a pair of scissors and begins to slowly shred the leopard blouse and skirt of The Secret Agent, humiliating her into complete submission. And that is exactly how The Secret Agent will be left. As The Spy makes a clean get away, and The Secret Agent gets left for dead!