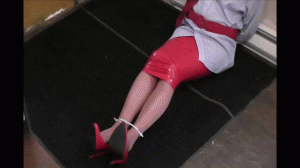 13:00 video
Starring Joyce Alexander as "The Chairman Of The Board"
And Amalieve as "The Bandit", alias "The Tormentor"
The Chairman Of The Board, caught, captured, and now being held for ransom! For one reason, and one reason only. The Tormentor's Profit!
Held captive in an abandoned house! In a vinly hobbleskirt, and 6" stiletto heels! Tightly wrapped gagged, and secured inescapably in zip ties! And, finally, hogtied and photographed!
To be sold to the highest bidder! The perfect victim! In the right place! At the right time! Helpless with no escape! "Hobbled And Hogtied!".