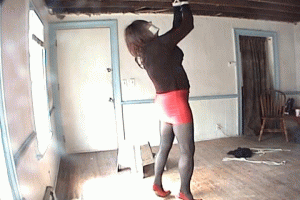 27 photos; 7:54 video
A scene that was added at the end of a photo shoot, where we finished early, and had enough time remaining to do an extra added bonus scene.
Strictly off the cuff, unplanned.
A struggling vignette, with a guest appearance by Amalieve as my captor.
Hands tied over head in an abandoned house. Escape impossible!
Spike heels, black pantyhose, micro mini skirt, combined with sweater bondage.!
Rope Bondage and a tape gag!
Simple, but so effective! And Erotic and Sexy!