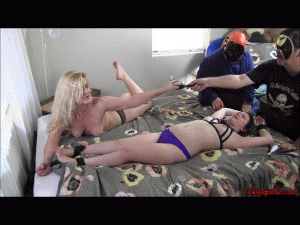 37:07 video
Starring Jennifer Bliss and Whitney Morgan
---
Now a first here at Ticklingisfun, a 3 on 1 tickling! Jennifer has just been tickled for a while by Whitney, but because Jennifer arrived for the shoot almost an hour late it's decided that some punishment is in order and we decide to keep her tickle torture going. Keeping her tied on her back, she is put through a TickleBang that lasts over 30 minutes! She is tickled by 3 very skilled ticklers, Whitney, LB and another friend of his. Jennifer is so ticklish that it isn't long before she calls her safeword the first time! She is only given a few seconds break before the tickling starts up again. As the tickling goes on, you can see the torment in her face as she just wants this to all be over. Hopefully she learns her lesson and isn't late again.
---
Jennifer and Whitney are available for custom video work. Shoot us an email to order yours today.
---
Come on in and enjoy lots of downloadable or streaming full length feature video's of today's hottest ticklish model's for one low price. Updated several times a week in stunning HD quality.
---
Brought to you by Ticklingisfun