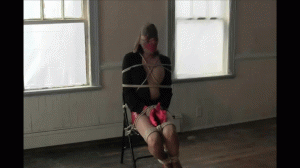 30 photos; 11:06 video
My Featured Series Of The Month, with the long awaited conclusion of Hand Gagged: "The Abandoned House".
The victim, in blouse, bodysuit, mini skirt, pantyhose, and 6" stiletto high heels. Now being held prisoner in an old, abandoned house, by her sexy and erotic captor. Chair tied, blindfolded, rope bound, and tape gagged, and now pantyhose hooded. Hand gagged, groped, and fondled for her captor's pleasure. Soon her wrists are bound over her head to the back of the chair. She is nylon hooded, with a duct tape wrap gagged added over the hood. Helplessly hand gagged!