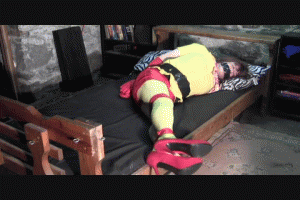 14:23 video
Starring Amalieve as "The Gypsy Seductress"
And Joyce Alexander as "The Helpless Housewife"

What begins as some innocent tape bondage with a tape gag, soon escolates into full-out, tight scarf bondage and head encasement, as The Gypsy Seductress returns to the big screen to once again capture and fully seduce The Helpless Housewife. Love Bondage in it's finest form. Eroticism the featured theme. Pantyhose, high heels, and short, tight skirts. Completely bound in scarves on screen. Ladies and gentlemen, "Scarf Bondage II"!