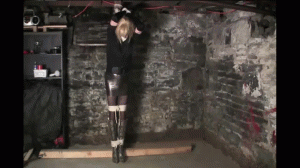 20 photos; 5:39 video
The Dominatrix's newest victim, a cheating wife being taught a lesson for her indiscretions, is now tied to a pole, hands-over-head, after being unpacked from her shipping box.

Wrists tied to the pole, ankles and knees tied tight. More tape for her mouth! And a wrap gag, not only over her mouth and around her head, but also around her arms, above her head!