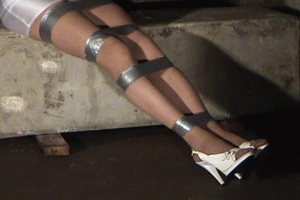 33 photos; 6:40 video
Another segment of my Home Invasion Series, entitled "Safe Keeping".
A fashion designer arrives home form work early, only to be grabbed, tied, and gagged, by a robber who has broken into her home.

She is escorted down into her basement, tied with duct tape and her mouth more securely gagged, as the robber searches the house for valuables.

A safe is found by the robber. Now it is time to make the bitch give up the combination to the safe. No matter what it takes!