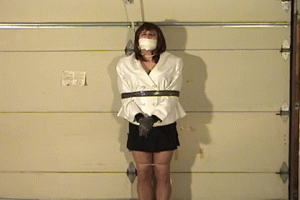 42 photos; 5:55 video
It seems that the Secretary has been having an affair with her Boss, behind the back of the Boss's wife.
But his wife is suspecting of him cheating with his Secretary and goes looking for evidence, finding hotel receipts.

The wife decides to take matters into her own hands, and captures the poor Secretary, taking her to the very garage at her Boss's house, tying her with zip ties, taping her hands, and securing her with a noose, attached to the garage door.

The Secretary will be held for ransom by The Boss's wife, in exchange for all of the Boss's money and assets, before the wife divorces him for cheating on her!