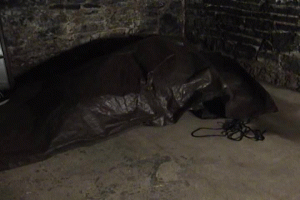 37 photos; 11:34 video
The heiress is badly in need of someone to keep her mansion clean and tidy, as well as some intimate companionship. What is a lonely Heiress to do? Why, simply buy a lovely maid, whom is being sold by her present owner!

Maid Audra Blair is shipped to The Heiress on a pallet, bound with zip ties, tape gagged, encased in a fishing net and a tarp. When The Heiress unpacks her "special delivery", she is so pleased with what she sees, that her emotions get the best of her. Changing into only bra, panties, and heels, The Heiress takes full advantage of the helpless maid's situation and proceeds to familiarize herself with her new property! She even reads the contract to The Maid, that she and the former owner signed, making sure that the maid knows of her new ownership, in detail.