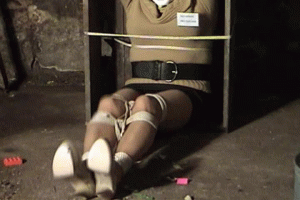 46 photos; 6:20 video
Starring Joyce Alexander as "Real Estate Agent Sara Anderson"
And Amalieve as "The Swindled Property Owner"


Sarah sells some valuable warehouse property to a very happy client, at a very good price. But, Sarah never researched the property. The warehouse has been condemned to be demolished the very next day after it is sold. The new owner, a down-and-out woman who has invested her life savings in the building, is furious and out for revenge, upon being notified of the demolition.

Sarah is captured by the woman and brought to the very basement of the building that she sold. The owner will get her revenge by keeping Sarah tied and gagged in a box in the basement, until she perishes when the building is demolished. A perilous predicament for our fair real estate agent! Can she escape before the demolition? She should have never sold "Condemned Property"!