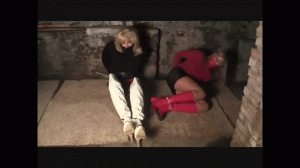 6:57 video
Starring Joyce Alexander and Dakkota Grey as "The Boots and Sweater Models"
A struggling vignette, featuring two tightly tied and gagged damsels, struggling to escape their predicamement.
Attired in tight sweaters, tight skirts, pantyhose, and high heeled boots.
A progressive tie, restrained with zip ties around ankles, legs, wrists and upper body.
Silenced by layers of duct tape over thier mouths.
Soon to be pantyhose hooded, nylon hooded, and hogtied, in Part II.