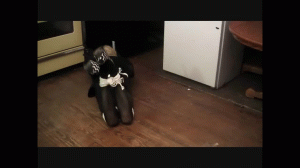 47 photos; 11:16 video
Starring Joyce Alexander as "The Hostage"
The star witness, in a trial involving a Mob Boss accused of murder, is captured, tied, gagged, and taken to an old abandoned house to be held captive for 2 days, so that she cannot attend her court date to testify against the Mob Boss. This Video and Photo Set shows her captivity during her first day of imprisonment. Tied on the floor with rope, and gagged with duct tape in black blouse, skirt, and pantyhose, with matching zebra print scarf and high heels. Then tied atop a counter in what used to be the kitchen, secured to one of the cupboards. A struggling vignette only!