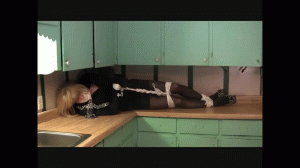 39 photos; 13:32 video
Day two of the captivity of a star witness in a trial against The Mob continues!
The final segment of the countertop tie, attached to the cupboard above her!

With most of her second day of captivity spent tied atop the dining room table, in what used to be the kitchen! Including a tight, restrictive hogtie, while blindfolded with duct tape!

Struggling to escape, but afraid to move, for fear of falling off of the dining room table!

Rope bondage, a tight tape gag, high heels, pantyhose! The perfect Detective Magazine victim!