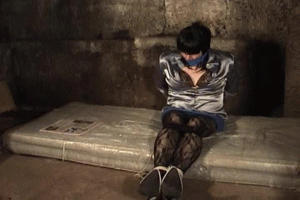 9:57 video
A millionaire's daughter bound, gagged, and helpless, left alone on a dirty mattress, in an unknown basement dwelling, far from anyone's sight or sound. Dressed in a black lace bodystocking, white 6" opera pumps, a blue skin tight nylon skirt, and a grey silk blouse, she is being held for ransom by her unknown assailants. Her father has a business empire that the captors plan on taking over,,,,,, with the help of his daughter!
Pictures are taken of her helpless state, along with several pics with a current newspaper, proving that the daughter is currently being held captive, but safe....at least for now!

The pretty captive is tied into a hogtie position, and the ransom call is made. What will happen if the father does not pay the ransom? What will happen to the daughter once the ransom is payed? Her captors may find her to be quite useful, after the ransom is paid!