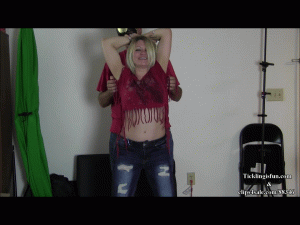 12:33 video
Starring Catherine Foxx
---
Catherine Foxx joins us for some tickling fun. She is one that is no stranger to being tickled and has even been in some demonstrations at Fetishcon. We already know she can take a lot of tickling, so it will be fun seeing how we stack up against other ticklers she's had working on her. A good way to start things off to find out is buy putting her through are Tickle Strip Challenge. How long can she keep her arms up while being tickled and how much of her clothing will she lose?
---
Catherine Foxx is available for customs. Email us with your requests!
---
Come on in and enjoy lots of downloadable or streaming full length feature video's of today's hottest ticklish model's for one low price. Updated several times a week in stunning HD quality.
---
Brought to you by Ticklingisfun