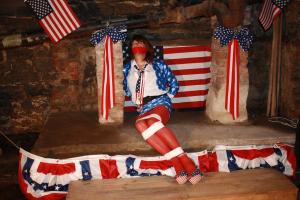 45 photos
I originally started planning this scene back in March, with the idea that I wanted to do something very special, unique, and different, for all of my members and fans.

First, I created this new damsel character, "Miss America", who I wanted to be dressed entirely in red, white, and blue. Linda from Hottbonds, custom made my skirt, jacket, and hood, all matching. The shoes I got from ShoeDazzle.com. The tie I picked up on a visit to NYC in April. The red fishnets and white blouse complete the ensemble.

The props and decorations I purchased as the vision of how I wanted the set to look. The bunting, bows, and flags, were all bought with specific locations on the set in mind.

The bondage and gag had to be matching to my outfit and colorful. Duct tape was the obvious choice, as you all know I love duct tape bondage anyway.

I sincerely hope that you love "Miss America" and Happy July 4th!