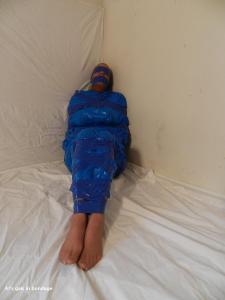 40 photos; 7:59 video
Slowly coming to our hapless damsel finds herself encased from head to toe in pantyhose. Wrapped in a blue plastic bag and tied securely in blue packing tape she struggles fruitlessly only to realize there is no escape.
Watch her dainty toes flex and strain against the tape and plastic. She struggles against the bondage while rolling on the floor only to discover how pointless of an effort this is as her bonds are inescapable.
Listen to her muted cries and whimpers from behind her gag and ask yourself if this is the type of girl you would put out on the curb?