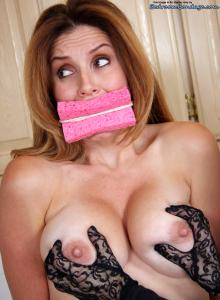 79 photos; 6:50 video
URGENT NOTICE: We had an important drive fail this month so we've been struggling with that... that's why we missed an update.
Today's update is unusual for 2 reasons. #1, All our most recent shoots are inaccessible at the moment :( except for this photoset, which happened to be on the transition drive when the primary drive failed, so we just discovered these pics yesterday, and today they're ready for you. (We still don't have the main drive back so thank you for your ongoing patience...)
Unusual reason #2. This is our first time giving you a photoset BOTH WAYS... jpg photos in a zipfile PLUS photos in a hands-free slideshow. Download which version you prefer, or download both. The slideshow is NOT live video (the custom shoot was NOT for video).
This was a custom photo-shoot done by FM Concepts. They hired Jamie Lynn and me for it, and then they let me have the photos. The custom was a request for housewife Jamie Lynn to be surprised at home, XXXX to remove her shoes and clothes, tied up and crotchroped, gagged with a folded sponge, chased playfully around the kitchen with a spatula, and felt up. Ta da! - Uploaded November 16 - Keywords: barefoot, bare feet, naked, nude, crotch rope, joyrope, rope leash, spank, masked villainess, slide show